I have a confession: I intentionally lied to Wikipedia.
Worse than that: I told my students — about 45 of them — to lie to Wikipedia, too.
I feel no guilt about this. In fact, I'm in good company. T. Mills Kelly, a history professor at George Mason, taught an entire class about historical hoaxes, and his students created a hoax of their own, including a fake Wikipedia entry (see his syllabus here, or read about the second iteration of the class in The Atlantic).
If you read my series of posts in late August (1 2 3 4), you know I'm currently teaching a writing course, for which the theme is "Wikipedia." Students (and, let's face it, faculty) use Wikipedia every day. Few, however, know much about how the site works, or when to trust it: they've been told not to cite it, but can't always articulate why not. And so many keep doing it. By the end of the semester my students will know much more about what goes on behind the site. They will be better informed users, and maybe they'll even start contributing to some of the ongoing projects that postcolonial and feminist scholars have started. But to begin, I had to lift the curtain.
Lying to the online encyclopedia was the first thing I asked students to do, and the assignment had a simple pedagogical goal: show students that it's possible to lie to Wikipedia, and what happens if they do.
So what does happen? If lots of people "vandalize" the site from the same IP address (as was the case), it will get blocked. The college has a few IP addresses, several of which were blocked following my and my students' lies. You can see the conversation in this screenshot of one of the Talk Pages. As you can see, the chastisement from Wikipedians gets progressively less civil, building from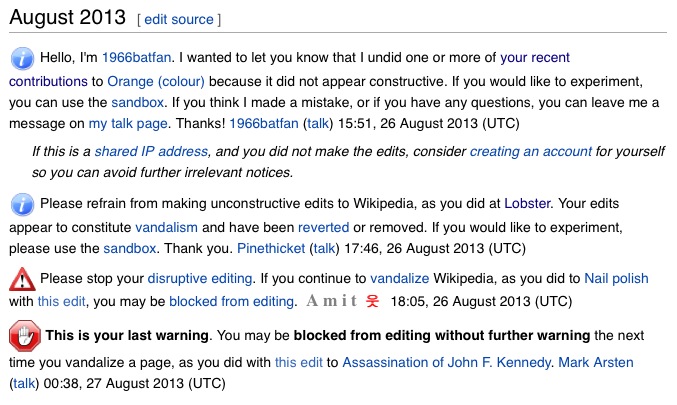 "your edit appears unconstructive" to "please refrain from making unconstructive edits" to "please stop your disruptive editing" to the red stop sign and "this is your last warning." This is Wikipedia's system at work, as users come to the rescue when it appears that a particular user or IP address is disrupting things.
I had anticipated the IP address getting temporarily blocked, and the boilerplate comments provided a great lesson about conveying tone in writing. (I hadn't anticipate the block preventing students from creating accounts, a hiccup that, luckily, we should be able to overcome.) We were adding things that were pretty obviously "unconstructive," and our first lesson was about Wikipedia's ability to control such blatant vandalism. But I had also asked students to tell me the lies they put up on Wikipedia. A few got past the editors. One of my students put himself as an inventor, and as of today — September 10th, two full weeks later — his claim still stands. (In the interest of the student's privacy, I won't say what he claimed to invent, and I have now reverted the edit).
This was our second lesson: while obvious vandalism is quickly caught, some changes (especially changes to pages that aren't often read) can go unnoticed.
We've now covered Wikipedia's 5 Pillars, and students will write their first paper about the Talk Page for an article they're interested in. They won't (I hope) blatantly lie to Wikipedia again, but they've seen how it works. And over the course of the semester, they'll become better, more knowledgeable users of Wikipedia.